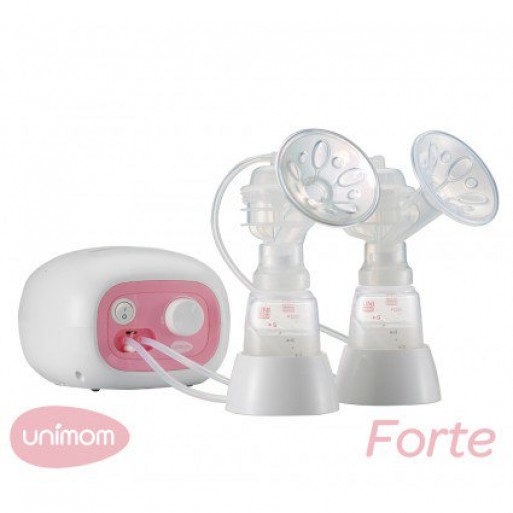 Unimom Breast Pump
In Stock: Dispatch 1 - 3 Business Days
The Forte model has a durable, hospital-grade motor, designed for exclusive, long-term expressing. Used in hospitals, yet compact enough for in home use, this double breast pump has a unique extensive suction range with a hygienic back-flow protection system.
The rhythmic suction allows for an efficient let down and maximum milk supply and provides you with all you need for easy, comfortable, expressing.
Hospital grade level strength of pumping and longer motor life durability

Double Sided Expression- Comes as a double and you have the option of single or twin pumping.

Rhythmic Suction- Mimics the natural rhythm of a baby's suck and not just an in and out pull.

Comfortable-

Soft food grade BPA free silicon massager that stimulates a let down like a baby's tongue

Adjustable vacuum setting enables optimum setting- Wider variation of suction levels
Closed System- Back flow protection for hygienic pumping


BPA Free
I stock a wide range of spare parts and accessories and will happily order any product in for you which I may not have in stock.
The shipping costs for your order will be calculated at the checkout. Alternatively you can contact the vendor (0272286747) and arrange an in store collection.