Styx River Farm
Styx River Farm is located on the banks of the Styx River in Ouruhia, Christchurch, South Island of New Zealand. Our 11 acre farm is home to Styx River Alpacas.
Alpacas are some of the most endearing animals on earth.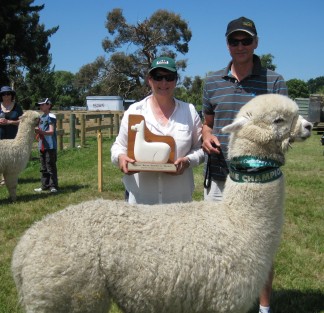 When Kees and I established our farm in 1992 we had no idea that we would be farming such exquisite creatures. We are very excited to be part of this new industry in New Zealand. We aim to strive for excellence at all levels of our operation from healthy, genetically sound livestock to superior quality handmade alpaca fibre garments.
It is our aim to supply you, our valued customer, with top quality alpacas whether they are for pets or breeding. We will support you with after sales advice as part of our service. If you choose, we will facilitate your on-going education about the care and management of alpacas by inviting you to open days and workshops as they become available. We are active members of the New Zealand Alpaca Association with 19 years' experience in alpaca animal husbandry and alpaca product development. We are committed to excellence in our business operations and look forward to assisting you with your needs.
Our on farm and online alpaca shop has a range of alpaca product including, gloves, scarves, beanies, throws, duvets and baby clothes. Our baby wear is mostly made from pure NZ alpaca but I do stock some items made from other fibres such as wool and cotton.
We also stock for your convenience, a range of complementary products which make ideal gifts such as products from Trade Aid and Tui Balms. We conduct our business in an ethically and socially responsible manner which is why we pay a contract wage to our New Zealand knitters. Profit from Tui Balms is given to charity.
I can make up gift boxes for any occasion from product available in the shop and sourced elsewhere to your particular needs.
Catherine & Kees Rietveld