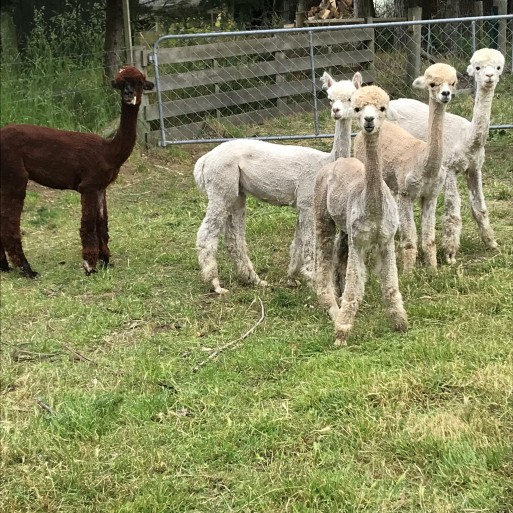 For Sale - Pet Alpacas
Out of Stock - please contact us
Alpacas are wonderful animals to have as pets and would make a lovely surprise gift for a child.
Check out these adorable, freshly shorn male cria 12 months old.
They have been bred responsibly bred with outstanding genetics and are all registered with the NZ Alpaca Association.
They must be sold as pairs unless going into an existing herd, trios or as a package of 5 (at reduced price of $1000.00 for all 5). They are all halter trained and are fully vaccinated and have received the vet recommended supplements for healthy development.
Their fleece statistics can be suppled on request. We recommend that males are de-sexed around 18 months of age unless you plan to certify them for breeding. We are particularly impressed with Georgio, one of the white boys, who may suit a breeder looking for new genetics to improve fleece quality.
Please message us (0272286747 or 0274815785) if you would like to know more or arrange a viewing. There is a good market for the fleeces either through commercial ventures or local crafters. We can help you identify outlets for your fibre.
After sales consultation is part of our service.
Once a year the Southern region of the Alpaca Association runs a free education workshop on the care and management of alpacas for new owners.
Delivery charges by negotiation.